Website maintenance
Website maintenance – a friendly operation system
After building a website, Web3D delivers it to the hands of the customer. A Web3D website is endowed with different tools which allow it to increase the exposure it needs to rank high in Google's search results and with a friendly content-management system that is easy to use.
Being able to work independently on their website allows business owners to create fresh content without requiring outside intervention other than SEO and PPC done by Web3D. This independence is backed 24/7 by Web3D, which provides immediate assistance in every needed operational field.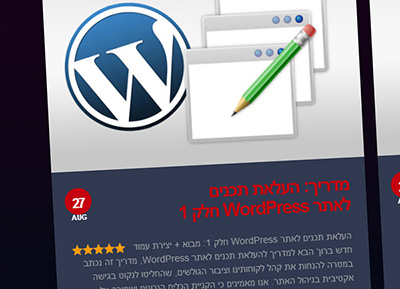 24/7 support and accompaniment

Seven professionals under one roof

WordPress experts

20 years of experience and professionalism
From government bodies to top businesses
24/7 Response in website maintenance
Web3D safeguards its customers with full guarantee all along the way, from the first stages of building a website to its launch. It provides professional and reliable support the whole time the website is on air. We provide phone support for any website-related topic, even when the website's system was not developed by Web3D.
Constant support for a website protects it from malfunctions and allows it to be upgraded by adding new modules. It improves its ranking on Google and other search engines and allows its content to be updated for changing needs, in accordance with dynamic trends in the market and the internet world in general.
Updating according to need
Every level of complexity can be monitored, upgraded and supervised. Web3D has the tools and advanced technological knowledge to build websites, portals, landing pages, cellular apps, Web apps and more, and serves as a professional go-to place for website maintenance.
Web3D's professional teams provide quick solutions thanks to their vast experience and wide knowledge, and the results are apparent. Any change, correction or answer, whether it be on the technical or content level, receive an answer.
The company provides maintenance at the systems-level as well, on top of developing software solutions which allow additions of modules to existing systems or their adjustment according to the customer's needs. The company's customers enjoy a supportive work environment, high availability at any time of day and assistance in any matter.
Friendly interfaces
Expertise in building dynamic websites
The pace of development of the Internet and the dynamism that characterizes the market today require much more complex interfaces than ever before for any site – a picture site, a virtual store, a content site, a catalog site, a complex portal, a social network and so on.

One roof
Building a marketing concept, strategy, campaign management, design and content. Everything a perfect site needs.

Professionalism
Leading design, marketing and strategy experts bring you years of knowledge and experience.

Experience
More than 1,000 projects in the field of Internet since 1997: characterization, web design and development.