הקמת אתרי אינטרנט | עיצוב אתרים | בניית אתר – QualityGates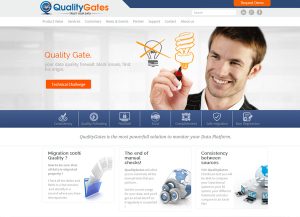 Development of a website for QualityGates , a high-tech company that deals with information security. The site's characterization emphasized the use of advanced technology to emphasize the company's advantage.
The site was built on one page, in order to make it easier for the site's users to access tablet devices. The site is suitable for smartphones. The project included site characterization , design concept , complex and unique Html-5 development , smart catalog with advanced filter, unique design , content insertion, social network construction , keyword research in several languages, and search engine matching .
Our product Quality-Gates was created by the innovation center of our company: Vision.bi
Vision.bi is Software and Services company specializing in the Business Intelligence (BI) field.
We offer our customers the unique option of using the Vision.bi applications & products enabling them to independently maintain and expand their own BI platform while reducing costs and increasing productivity.
Captilalisation on our experiences is fundamental: In Project after Project, we noticed a lack of efficiency in the BI area. We worked to close this gap, and created Quality-Gates that enables companies to improve  the quality of their BI environment.
Vision.bi is part of the Keyrus group, an international key player in performance management consulting and integration of Business Intelligence solutions. The Keyrus group already does business in 12 countries on 4 continents  and  many of the world's largest companies can be found among its clients
Web3D is engaged in providing advanced Web (Web Development, Web Design , Html-5), switch digital and business , establishing social networks and campaign management , graphic design , software development , branding and positioning combined animation, flash, icons, character development Hentai And videos, promotional films and presentations . The company strives for perfect, unique and stimulating design work, while maintaining technological progress and breaking boundaries.
To the project QualityGates -Information Security
ממשקים ידידותיים
מומחיות בבניית אתרים דינמיים
קצב ההתפתחות של רשת האינטרנט והדינאמיות המאפיינת את השוק כיום דורשת ממשקים מורכבים הרבה יותר מאשר פעם לכל אתר: אתר תדמיתי, חנות ווירטואלית, אתר תוכן, אתר קטלוג, פורטל מורכב, רשת חברתית וכולי.

One roof
Building a marketing concept, strategy, campaign management, design and content. Everything a perfect site needs.

Professionalism
Leading design, marketing and strategy experts bring you years of knowledge and experience.

Experience
More than a 1,000 projects in the field of Internet since 1997: characterization, web design and development.