Corporate Films
living Brand advertising
In recent years, Web3D's promotional films have generated significant buzz on the Internet and the media. In their creation, the company combined originality and innovation with advanced technological infrastructure. Thanks to an advanced technological system and the broad knowledge of our filmmakers, customers enjoy unique combinations of photography, sound and animation, tailored to their needs with maximum precision. Add 3D technology, documentary photography, flash technology, professional narration, and a host of innovations – and you have a one-time creation that will shoot your business upwards.
Promotional films
A significant marketing supplement

Website
Movies increase site traffic and stay time

For social networking campaigns
More views, more shares, more identification with the brand
Conferences and exhibitions
A significant marketing upgrade for pavilions at exhibitions in Israel and abroad

For business presentations
Movies manage to convey complex messages with simplicity and clarity
For employee training
Live demos serve as an effective and proven training tool

To strengthen the image
Promo films help strengthen the company's image

Script

2D
animation

3D
animation

Video

Music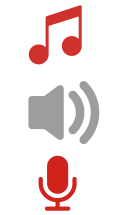 Narration


Creative interactivity in motion
Promotional films fill different functions – marketing and advertising, penetrating the audience's awareness space, displaying products, branding aids in exhibitions and professional conferences, training and more. You can also create promo films to be marketed as part of building the company's image.
How do you create excellence on screen?
A quality promotional film will present the company from a creative, original, representative and reliable angle. Some of them lively and "young," others maintain a classic and buttoned-up line – the design, content and choice of motifs are done according to the professional characterization that Web3D builds for its customers.
Look at selected examples in our portfolio, including promotional films presented at conferences and exhibitions in different countries.
Why us?
At Web3D, we not only produce creative and effective promotional films – we are also experts in adapting them to a variety of digital and media marketing platforms. Our promotional films rely on advanced technological infrastructure, precise visual tools and the best creative minds in the field. Whether it's animated films, 3D movies, or any other film – we're elevating our experience and resources to create a marketing platform from another world.

One roof
Production of promotional films using unique interactive tools and use of methods from the worlds of animation and 3D.

Experience
Over 100 projects in the field of promotional films for all sectors of the industry in Israel and around the world.

Professionalism
Leading design, illustration, marketing and strategy experts. And they all work for you.