Content Management Systems
Easy-to-use system - effective content management
The need for ongoing management of the site's pages or system (software, application) receives a professional response by an easy-to-use content management system adapted to the client's needs. Web3D builds systems and customer sites in a unique way, creating an individualized information management system that helps organizations and businesses manage their business information more efficiently.
Design using a content management system
Content management systems enable text formatting, adding files of various types (including Flash), adding a picture gallery, creating links between pages per page, creating links to external sites, managing banners, managing dynamic lists, tables and more. The pages have intuitive operating systems and are therefore inviting to use and simple to operate.
In addition, the management system enables the defining of elements required for website promotion, designed for search engines. Management of the system and website at the language level is also a possibility. Client mechanisms let the customer grant user authorizations and manage users.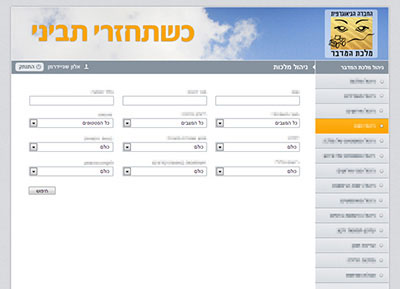 Information systems – dynamic independence
Web3D builds systems and sites which can be dynamic, but which are based on a stable interface. A content management system based on advanced technology helps the customer work on the site independently with no need of the site builder.
In addition, the system enables the management of organizational information in a more efficient manner, independently and dynamically, regardless of the number of fields, records or processes performed behind the scenes. The uniqueness of the system lies in its hermetic adaptation to the customer's unique needs.
Content Management System – Website
A Web3D website is built on an infrastructure tailored to Google's search engines and powered by a content management system that is easy-to-use for the client. Management of the site after its launch does not require technological knowledge. An update is easily carried out at no additional cost.
Ultimate Match
The Web3D management system is characterized by a fast learning curve. It is best suited to the requirements of the optimization process for organic search. The system is characterized by high quality standards, and can be assimilated without limit on many different designs. The flexibility that characterizes it makes it the ultimate match for any site. Web3D also provides unique adjustable models.
Web3D has been building websites and management systems for more than 17 years of fruitful and successful work, based on impressive technological superiority: developing websites adapted to customer needs such as image sites, building portals, complex CRM systems, data management systems such as fuel, service, customer databases, and social networks, while adding content management systems adapted to search engines to create a stronger online presence. The product is based on the characterization of the site.
Friendly interfaces
Expertise in building dynamic websites
The pace of development of the Internet and the dynamism that characterizes the market today require much more complex interfaces than ever before for any site – a picture site, a virtual store, a content site, a catalog site, a complex portal, a social network and so on.

One roof
Building a marketing concept, strategy, campaign management, design and content. Everything a perfect site needs.

Professionalism
Leading design, marketing and strategy experts bring you years of knowledge and experience.

Experience
More than 1,000 projects in the field of Internet since 1997: characterization, web design and development.