מאמר אודות בניית אתר אינטרנט תדמיתי: חברת פרומתאוס – חברה לייעוץ כלכלי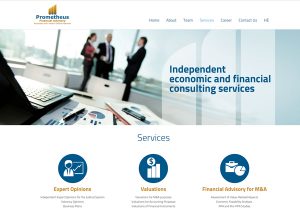 Establishment of an image website based on a WordPress management system for Prometheus , which provides financial advice to the self-employed in a wide range of sectors. The firm employs workers in the fields of economics, finance, accounting and tax, which together create a professional envelope that provides the optimal solution for the customer and the bottom line saves him a lot of money.
Prometheus Economic Consulting Ltd. is an independent economic and financial consulting firm led by CPA Yuval Silberstein and Eyal Shevach in conjunction with Yardeni Gelfand Aberman & Co. CPA, who has been active since 1985 and specializes in various accounting, tax and trust services. The joint office employs about 50 professionals in the fields of economics, finance, accounting and taxes. CPA Yuval Zilberstein serves as CEO and Chief Economist and Eng. Eyal Shevach serves as a partner in the firm.
The firm's managers have over 20 years of experience in the largest and most complex M & A transactions in the economy, as well as significant economic projects in a variety of economic sectors in leading public companies. In addition, the firm's managers have a proven track record in economic and financial consulting in the context of business and strategic processes and other complex economic analyzes that are required for the firm's management at key decision-making levels to make fundamental decisions in the firm's life.
The project included a number of key stages that took into account the activity of the business, the nature of its customers, its business objectives and more. The site included a unique design tailored to the target audience, by characterizing and segmenting the areas of specialization of the business. All content on the site has been fully optimized – for site matching in various search engines. 
The site was built in harmony with tablet devices and smartphones.
Web3D is one of the founders of the field of website development in Israel, and it fully integrates every site for the benefit of the customer and for the needs of its surfers, professionally and responsibly. In accordance with the customer's needs that are characterized at the beginning of the process, the company adapts the site to pre-calculated planning for the search engines for effective promotion. The result: the site's presence on the web has increased.
To the project Prometheus – an economic consulting firm
ממשקים ידידותיים
מומחיות בבניית אתרים דינמיים
קצב ההתפתחות של רשת האינטרנט והדינאמיות המאפיינת את השוק כיום דורשת ממשקים מורכבים הרבה יותר מאשר פעם לכל אתר: אתר תדמיתי, חנות ווירטואלית, אתר תוכן, אתר קטלוג, פורטל מורכב, רשת חברתית וכולי.

One roof
Building a marketing concept, strategy, campaign management, design and content. Everything a perfect site needs.

Professionalism
Leading design, marketing and strategy experts bring you years of knowledge and experience.

Experience
More than a 1,000 projects in the field of Internet since 1997: characterization, web design and development.