בניית אתר אינטרנט תדמיתי : CDI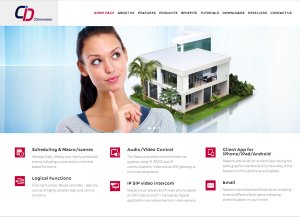 Building a website image – displays an about page, interactive home page, a page with details about the system, page downloads, training page with videos, Page distributors uniquely built the site for the system –  Maestro of the company CDI .
The website was built as part of the company's marketing and branding process, and was accompanied by a video clip of 9:30 minutes, logo design and UI design.
In today's world, many people are investing more and more in their residences, in an attempt to create a comfortable environment to come home to. EIB / KNX "Smart Homes" (equipped with EIB / KNX Home Automation Systems) are at the forefront of these efforts. However, until recently the problem has remained, how to conveniently and aesthetically control these "Smart Systems" and how to integrate external system such as Audio, Video, HVAC Intercom, Alarm systems and smart phones.and have the same user fraindly GUI on inwall touch screen, ipad / iPhone and web interface?
CD Innovation comes to the rescue with a new line of products – The Maestro series.
The company is involved in setting up websites, developing software, branding and positioning with animation ,  flash ,  icons, 3D simulations , corporate films and presentations. The company strives for perfect design work, unique and stimulating. While maintaining technological progress and breaking boundaries  and a content management system   with a unique and user-friendly menu
To the project Image website: CDI
ממשקים ידידותיים
מומחיות בבניית אתרים דינמיים
קצב ההתפתחות של רשת האינטרנט והדינאמיות המאפיינת את השוק כיום דורשת ממשקים מורכבים הרבה יותר מאשר פעם לכל אתר: אתר תדמיתי, חנות ווירטואלית, אתר תוכן, אתר קטלוג, פורטל מורכב, רשת חברתית וכולי.

One roof
Building a marketing concept, strategy, campaign management, design and content. Everything a perfect site needs.

Professionalism
Leading design, marketing and strategy experts bring you years of knowledge and experience.

Experience
More than a 1,000 projects in the field of Internet since 1997: characterization, web design and development.