בניית אתר אינטרנט | עיצוב: SIGMAI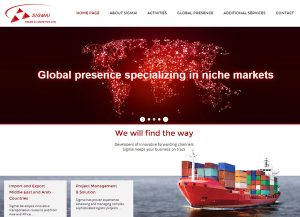 Development and design of a web site for SIGMAI, which deals with shipping, logistics and supply chain. After adjusting the target audience and characterizing the design concept, we chose to emphasize a global manifestation while emphasizing the uniqueness of the company and its advantages, while segmenting the number of services that the company offers.
The project included: characterization, design concept building, website development, social networking, keyword research, optimization and search engine optimization.
Sigmai is a dynamic logistics agency that provides service to the entire supply chain, the services are provided by a dedicated professional team and a global network of contacts and commercial partners.
The aim of the company is to facilitate international trade requirements by providing expert knowledge and services in all aspects of chain management solutions, customs clearance and delivery.
The Company believes that complex procedures and supply chain management and shipping require considerable expertise, markets and professional fields. The company presents a broad picture, simplifies processes, and minimizes damage and insult.
In addition, the company's global forwarding network of connections provides the customer with trade solutions and offers a global footprint anywhere in the world.
Web3D, one of the oldest companies in the world of the Internet and software, presents a discounted set of site templates for small to medium-sized business owners, tailor-made sites that will help to increase the customer base significantly. All sites are built after meticulous characterization, design and marketing concept, adapting a template is appropriate for marketing and design strategy requirements.
The company provides advanced web services (web design, web design , HTML-5), digital and business branding , social networking and campaign management , graphic design , software development , branding and positioning with animation, flash, And videos, promotional films and presentations . The company strives for perfect, unique and stimulating design work, while maintaining technological progress and breaking boundaries.
To the project Logistics company – SIGMAI
ממשקים ידידותיים
מומחיות בבניית אתרים דינמיים
קצב ההתפתחות של רשת האינטרנט והדינאמיות המאפיינת את השוק כיום דורשת ממשקים מורכבים הרבה יותר מאשר פעם לכל אתר: אתר תדמיתי, חנות ווירטואלית, אתר תוכן, אתר קטלוג, פורטל מורכב, רשת חברתית וכולי.

One roof
Building a marketing concept, strategy, campaign management, design and content. Everything a perfect site needs.

Professionalism
Leading design, marketing and strategy experts bring you years of knowledge and experience.

Experience
More than a 1,000 projects in the field of Internet since 1997: characterization, web design and development.