הקמת פורטל פנים ארגוני | מערכת ניהול מידע: ארגון הלאומי הישראלי CIGRE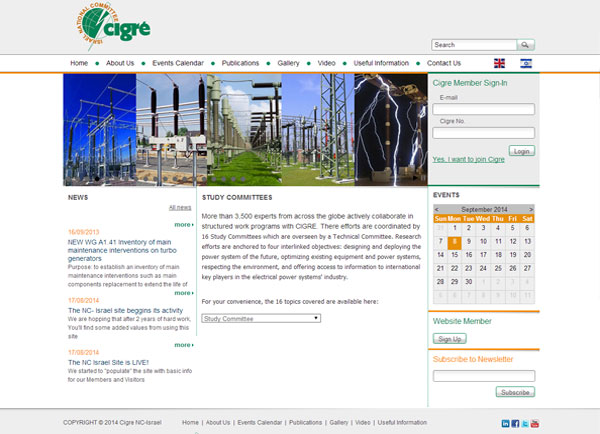 The establishment of an external portal and an internal organizational portal to the Israeli national organization Cigre.
The project includes portal external , and internal portal organizational members of the organization, the system includes a module Advanced registration organization members consisting of 4 levels of registration, registration for participation in the events module and a payment system events and organization. The external portal also includes an advanced management interface that can be managed and entered content exclusively by the customer.
CIGRE was founded in 1997 with the support of the Israel Electric Corporation and with the participation of an additional private company. The first statement stated that the organization's goal is to spread knowledge to all those in Israel in the fields of electricity and a strong stream and to create a forum for experts, students, equipment manufacturers and academics, which creates direct contact with experts from abroad in different fields of activity. The National Organization operates as a branch of CIGRE, an international organization established in 1921 and headquartered in Paris. The international organization includes over 80 countries and 810 factories and institutions.
The unique characteristic of the organization, which was determined by the founders, is that the organization embraces electric companies, manufacturers of electrical equipment for high-voltage and high-voltage power plants and higher education institutions.
During the last few years, the organization's activity was expanded to the distribution network, in addition to high voltage networks and to the electricity generation segment.
Participation of the State of Israel in the work of the organization CIGRE helps to receive updated information in the technical field related to electrical equipment and systems at all levels of tension, which contributes to the establishment of industries that work according to advanced technologies.
Members of a national organization have a real opportunity to meet with colleagues from all over the world, leading to the establishment of joint ventures in the professional and commercial fields.
The professional activities focus on 16 study committees (SC) and 200 working groups
(WG – Working Groups), in accordance with the subjects dealt with by the study committees.
Web3D develops software solutions for businesses and companies that rely on advanced characterization of user needs up to the ultimate functionality level of each component of the system. Dedicated software development for the business directly contributes to streamlining business processes and increasing sales.
To the project Establishing an internal organizational portal | Information Management System: The Israeli National Organization CIGRE
למה אנחנו?
עם מתודולוגיות עבודה מתקדמות, כלים מעולם ההיי-טק וצוות מומחים שחי ונושם קדמה טכנולוגית, Web3D הינה ממובילי תחום פיתוח האפליקציות ללקוחות עסקיים. אנחנו שמים דגש על אפיון מעמיק, חוויית/ממשק משתמש (UI/UX) אינטואיטיביים וממשק גרפי (GUI) שמניע גולשים לפעולה. והכי חשוב: אנחנו מבינים מצוין את הצרכים העסקיים שלכם- ויודעים לתת להם ביטוי הולם.

One roof
Building a marketing concept, strategy, campaign management, design and content. Everything a perfect site needs.

Professionalism
Leading design, marketing and strategy experts bring you years of knowledge and experience.

Experience
More than a 1,000 projects in the field of Internet since 1997: characterization, web design and development.