בניית אתר: Strategy 360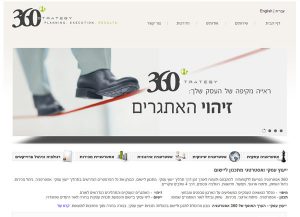 Building a society  ' 360 Strategy ', the project included the characterization, taking an interest in and building a website. In addition to building the site, Web3D designed the company logo and dealt with basic branding for the business. In addition, a landing site was built to promote the company's marketing strategy.
360 Strategy is a business and management consulting firm that helps its customers establish and grow. The activity includes dealing with a range of issues affecting growth and consolidation: Planning business strategy and setting company goals. Planning the marketing strategy and creating differentiation. Planning the sales strategy and sales location at the center of the recognized organization. Making changes and organizational adjustments is required in a strategy-supporting organization. Synchronization and synergy between all the different processes in view of the objectives.
For over a decade and a half  Web3D has  accumulated rich experience in:  building, designing,  promoting websites , incorporating  animation ,  flash ,  icons , and a unique and exciting design. While maintaining technological progress and breaking boundaries and a content management system   with a unique and user-friendly menu.
To the project Business Consulting
ממשקים ידידותיים
מומחיות בבניית אתרים דינמיים
קצב ההתפתחות של רשת האינטרנט והדינאמיות המאפיינת את השוק כיום דורשת ממשקים מורכבים הרבה יותר מאשר פעם לכל אתר: אתר תדמיתי, חנות ווירטואלית, אתר תוכן, אתר קטלוג, פורטל מורכב, רשת חברתית וכולי.

One roof
Building a marketing concept, strategy, campaign management, design and content. Everything a perfect site needs.

Professionalism
Leading design, marketing and strategy experts bring you years of knowledge and experience.

Experience
More than a 1,000 projects in the field of Internet since 1997: characterization, web design and development.