מאמר בניית אתר תדמית | נוקד קפיטל: אתר וורדפרס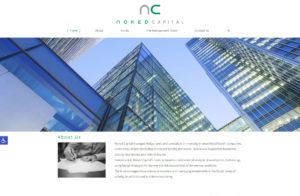 Building an image site for the company Noked Capital manages hedge funds. The project included characterization, design and development of the site in two languages ​​- Hebrew and English. The site was built on a WordPress management system known to be friendly to the user and as part of the company's services, a complete instruction was given to the client so that he could operate the site in the future himself. The site was adapted to all types of computer screens, tablets and mobile devices.
Noked Capital is a company that manages hedge funds and specializes in investment in securities in the local market, in the areas of debt (including bonds in Distress) and shares. The company was founded in November 2013 by Roy Vermus and Shlomi Bracha, who have extensive experience in the Israeli capital market.
With the establishment of the company, the hedge fund Noked Action, a multi- strategy hedge fund focusing on investment in bonds and shares, was established. In April 2016, when Shai Yitzhaki joined the fund's management team, the hedge fund, Naked Equity, established a long-standing hedge fund that focuses on the local stock market.
Web3D is one of the founders of the field of website development in Israel, and it fully integrates every site for the benefit of the customer and for the needs of its surfers, professionally and responsibly. In accordance with the customer's needs that are characterized at the beginning of the process, the company adapts the site to pre-calculated planning for the search engines for effective and effective promotion. The result: the site's presence on the web has increased.
To the project Noked Capital – Hedge Funds
ממשקים ידידותיים
מומחיות בבניית אתרים דינמיים
קצב ההתפתחות של רשת האינטרנט והדינאמיות המאפיינת את השוק כיום דורשת ממשקים מורכבים הרבה יותר מאשר פעם לכל אתר: אתר תדמיתי, חנות ווירטואלית, אתר תוכן, אתר קטלוג, פורטל מורכב, רשת חברתית וכולי.

One roof
Building a marketing concept, strategy, campaign management, design and content. Everything a perfect site needs.

Professionalism
Leading design, marketing and strategy experts bring you years of knowledge and experience.

Experience
More than a 1,000 projects in the field of Internet since 1997: characterization, web design and development.