מאמר בניית אתר תדמית לעסק: דרור ברדה אדריכלים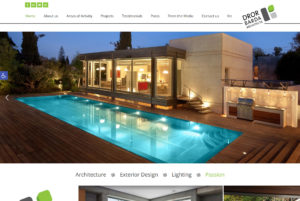 Building an image for business – Dror Barda Architects. As part of the project, a model was put on visualization in terms of cleanliness and aesthetics. In addition, the projects were segmented according to the firm's areas of the activity, with each area highlighting a different niche. The goal is to create an impression on the surfer and emphasize the meticulousness of the small details, the clean work that the site creates and thus motivate the surfer to act. As part of the sites construction, a meticulous characterization and optimization was performed to promote and optimize the site in order to promote the site naturally.
To the project Building an image for business: Dror Barda Achitects
ממשקים ידידותיים
מומחיות בבניית אתרים דינמיים
קצב ההתפתחות של רשת האינטרנט והדינאמיות המאפיינת את השוק כיום דורשת ממשקים מורכבים הרבה יותר מאשר פעם לכל אתר: אתר תדמיתי, חנות ווירטואלית, אתר תוכן, אתר קטלוג, פורטל מורכב, רשת חברתית וכולי.

One roof
Building a marketing concept, strategy, campaign management, design and content. Everything a perfect site needs.

Professionalism
Leading design, marketing and strategy experts bring you years of knowledge and experience.

Experience
More than a 1,000 projects in the field of Internet since 1997: characterization, web design and development.