בניית אתר תדמיתי | עיצוב: LauferJet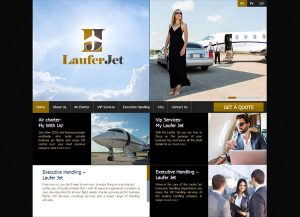 A page showing the construction of an image website for Laufer Jet . The project included building a marketing concept – image for society – learning target audience, aimed mainly at those with the highest socio-economic status in the world. The concept is also reflected in the established website. The website includes a dedicated database development including a database of available flights, search areas (queries) where the surfer can check for an available flight and contact a company representative to place an order or further inquiry. In addition to building the marketing concept, the project included writing professional content in 3 different languages, keyword research and optimization according to the target countries and languages ​​of the target audience, full content feed and the design of the internal pages. The site was built in 3 languages. The site is adapted for tablet devices and smartphones.
Laufer Jet and VIP services for private customers, specializes in leasing private aircraft and providing executive flight services. Home Laufer Aviation – GAI, Israel's leading provider of ground services to airlines Ofer Aviation – GHI employs 650 employees and each year provides ground services to 4 million passengers in 15,500 airline flights at all airports in Israel.
Laufer Jet implements an innovative service concept, which is the next generation in the field of private flights for managers:
Private jet charter services for executive flights, accompanied by VIP services and concierge services and in a land services system in Israel.
The successful implementation of this unique service concept is made possible by the synergistic integration between Laufer Jet's strength in VIP services, concierge and ground services, and the expertise gained by Laufer Jet in chartering private jets for private flights. The result: One Stop Shop with a professional and efficient service package for private flights, which Laufer Jet customers enjoy 24 hours a day, 7 days a week.
Web3D is one of the founders of the field of website development in Israel, and it fully integrates every site for the benefit of the customer and for the needs of its surfers, professionally and responsibly. In accordance with the customer's needs that are characterized at the beginning of the process, the company adapts the site to pre-calculated planning for the search engines for effective promotion. The result: the site's presence on the web has increased.
The company is involved in setting up websites, developing software, branding and positioning with animation ,  flash ,  icons, 3D simulations, corporate films and presentations. The company strives for perfect design work, unique and stimulating. While maintaining technological progress and breaking boundaries and a content management system   with a unique and user-friendly menu.  
To the project VIP services – LauferJet
ממשקים ידידותיים
מומחיות בבניית אתרים דינמיים
קצב ההתפתחות של רשת האינטרנט והדינאמיות המאפיינת את השוק כיום דורשת ממשקים מורכבים הרבה יותר מאשר פעם לכל אתר: אתר תדמיתי, חנות ווירטואלית, אתר תוכן, אתר קטלוג, פורטל מורכב, רשת חברתית וכולי.

One roof
Building a marketing concept, strategy, campaign management, design and content. Everything a perfect site needs.

Professionalism
Leading design, marketing and strategy experts bring you years of knowledge and experience.

Experience
More than a 1,000 projects in the field of Internet since 1997: characterization, web design and development.