בניית אתר: שרביב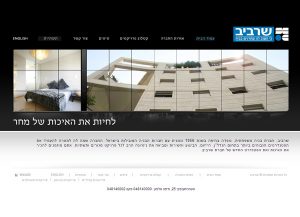 Building a site for the company "Sharbiv ", the project included the construction of a website that has a unique site design after the strict characterization (GUI).
Sharbiv, a family construction company founded in Haifa in 1956, is one of the leading construction companies in Israel.
Sharbiv's economic stability and performance over the years enabled her to carry out complex construction and infrastructure projects, which gave her a reputation and a reputation for reliability, professionalism and experience. Over the past 20 years, Sharbiv has been involved in large and complex projects, considered to be the leaders in Modi'in, Tel Aviv, Ashdod, Haifa and the Krayot. In addition to these, Sharbiv performed complex engineering work, infrastructure systems and public buildings throughout the country.
For over a decade and a half, Web3D has accumulated rich experience in: building, design, SEO, animation, flash, icons, and unique design. While maintaining technological progress and breaking boundaries and a content management system   with a unique and user-friendly menu.
To the project Shariv – Construction Company
ממשקים ידידותיים
מומחיות בבניית אתרים דינמיים
קצב ההתפתחות של רשת האינטרנט והדינאמיות המאפיינת את השוק כיום דורשת ממשקים מורכבים הרבה יותר מאשר פעם לכל אתר: אתר תדמיתי, חנות ווירטואלית, אתר תוכן, אתר קטלוג, פורטל מורכב, רשת חברתית וכולי.

One roof
Building a marketing concept, strategy, campaign management, design and content. Everything a perfect site needs.

Professionalism
Leading design, marketing and strategy experts bring you years of knowledge and experience.

Experience
More than a 1,000 projects in the field of Internet since 1997: characterization, web design and development.