בניית אתר: קבוצת ר.פ.א. פורט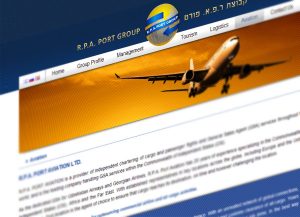 Building a site for the RPA Group, RPA Port.
RPA Port Group is a leading company in international transportation, tourism and aviation. The RPA Group, with decades of experience, sets the standard of excellence in each of its areas of expertise and provides innovative and customized solutions for the transportation, customs, charter and tourism sectors in Uzbekistan and the Far East.
Web3D has worked extensively to expand the virtual design envelope, locate the group company and locate a group itself. The site was built in 3 languages, using a dynamic content management system to update content, add pages, and edit images, sub-categories and more.
Two decades Web3D has gained experience in: building, design, SEO , combined  animation , flash , icons, and a unique and stimulating design. While maintaining technological progress and breaking boundaries and a content management system   with a unique and user-friendly menu.
To the project RPAPort Maritime Transport
ממשקים ידידותיים
מומחיות בבניית אתרים דינמיים
קצב ההתפתחות של רשת האינטרנט והדינאמיות המאפיינת את השוק כיום דורשת ממשקים מורכבים הרבה יותר מאשר פעם לכל אתר: אתר תדמיתי, חנות ווירטואלית, אתר תוכן, אתר קטלוג, פורטל מורכב, רשת חברתית וכולי.

One roof
Building a marketing concept, strategy, campaign management, design and content. Everything a perfect site needs.

Professionalism
Leading design, marketing and strategy experts bring you years of knowledge and experience.

Experience
More than a 1,000 projects in the field of Internet since 1997: characterization, web design and development.