בניית אתר מסחרי: לימודי אנגלית Creative English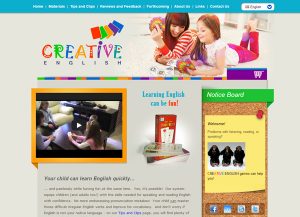 Building a commercial product image Learning English ' Creative English, the site was designed and built with a mechanism for multi languages, to add any language at the choice of the customer, without limitation, so that all the fields in the Site are subject to change and Translation. In addition, the shopping basket and store products can be converted according to the local currency of the site's language. The site includes a product ordering system. All pages are dynamic and can be designed and modified by the client by a content management system. The site is a commercial site for the sale of the store's products, and complies with all payment transfer standards. The owners of the site are Ashley and Trevor Zucker:
Ashley Zucker is a certified English teacher with 20 years of experience in learning English as a foreign language, including nine years at the Ort Horowitz Junior High School in Karmiel. The students she taught are from kindergarten to adults. She holds a BA in Modern Languages ​​(German and French) from the University of London.
Trevor Zucker was ordained as a teacher and spent 10 years teaching physics and chemistry in schools in London (junior high and high school). He has a basic TEFL license from the International House in London. For more than 20 years, he has been working as a technical writer. He holds a BA in Natural Sciences from Cambridge University.
To the project Learn English
ממשקים ידידותיים
מומחיות בבניית אתרים דינמיים
קצב ההתפתחות של רשת האינטרנט והדינאמיות המאפיינת את השוק כיום דורשת ממשקים מורכבים הרבה יותר מאשר פעם לכל אתר: אתר תדמיתי, חנות ווירטואלית, אתר תוכן, אתר קטלוג, פורטל מורכב, רשת חברתית וכולי.

One roof
Building a marketing concept, strategy, campaign management, design and content. Everything a perfect site needs.

Professionalism
Leading design, marketing and strategy experts bring you years of knowledge and experience.

Experience
More than a 1,000 projects in the field of Internet since 1997: characterization, web design and development.