מאמר עיצוב אתר אינטרנט: Carmochrome – מפעל מתכת, ציפוי וצביעה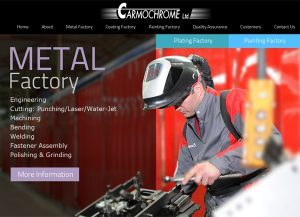 Building a website in WordPress for CarmoChrome. The site design of CarmoChrome included detailed characterization and presentation of the three plants operating under the company at one site, with an emphasis on each of the fields of activity of each plant.
The project included a day of shooting at the three factories, video editing and still photography throughout the factory compound. The images on the site together with special design effects convey the work in the metal industry and give the feeling of an interactive website to a content site. The site is optimized for all search engines, tablets and mobile devices.
Web3D is one of the founders of the field of website development in Israel, and it fully integrates every site for the benefit of the customer and for the needs of its surfers, professionally and responsibly. The company has over 20 years of experience in designing websites according to the customer's needs, which are characterized at the beginning of the process. Web3D adapts the site to pre-calculated planning for search engines for efficient and effective promotion. The result: the site's presence on the web has increased.
To the project Carmochrome – metal factory
ממשקים ידידותיים
מומחיות בבניית אתרים דינמיים
קצב ההתפתחות של רשת האינטרנט והדינאמיות המאפיינת את השוק כיום דורשת ממשקים מורכבים הרבה יותר מאשר פעם לכל אתר: אתר תדמיתי, חנות ווירטואלית, אתר תוכן, אתר קטלוג, פורטל מורכב, רשת חברתית וכולי.

One roof
Building a marketing concept, strategy, campaign management, design and content. Everything a perfect site needs.

Professionalism
Leading design, marketing and strategy experts bring you years of knowledge and experience.

Experience
More than a 1,000 projects in the field of Internet since 1997: characterization, web design and development.