פרטים אודות הקמת אתר אינטרנט תדמיתי לארגון – Sparkpro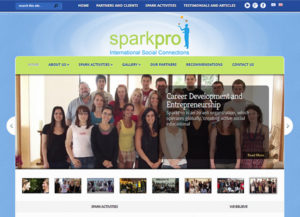 Establishment of a website for SparkPro, an Israeli-global organization that focuses on initiating, developing and accompanying social, business and professional projects in the international arena.
The project included the establishment of a website – it should be noted that Web3D has also built the old site of the organization, and has established the new website.
The project included redesigning the website, adapting it to smartphones, optimizing SEO for the search engine, and developing on a WordPress (no template) basis.
The organization offers its services to lead "spark" programs and existing projects, or to develop your own "SPARK PROJECT" programs.
The programs SPARKPRO projects are suitable for companies, organizations, academic institutions, municipalities and local councils, professional and private interest groups and business people who wish to operate in the global and national international arena
The organization aims to create meetings that broaden horizons and enrich people across the globe and from all corners of the globe, in an unmediated and coordinated way, whose purpose is to build connections and platforms for joint activity.
SPARKPRO meetings allow a meeting that is built on the basis of the broadest common denominator that exists – people and people
SPARKPRO sessions in their unique way enable participants to initiate and develop real connections that enable them to collaborate in a variety of professional, business, public, academic and social contexts that are long-term and cross-border.
Web3D is one of the founders of the field of website development in Israel, and it fully integrates every site for the benefit of the customer and for the needs of its surfers, professionally and responsibly. In accordance with the customer's needs that are characterized at the beginning of the process, the company adapts the site to pre-calculated planning for the search engines for effective promotion. The result: the site's presence on the web has increased.
Web3D provides web solutions, digital marketing, software development, branding and positioning with animation ,  flash ,  icons, 3D simulations , corporate films and presentations. The company strives for perfect design work, unique and stimulating. While maintaining technological progress and breaking boundaries  and a content management system   with a unique and user-friendly menu.
To the project Accompanying social projects – Sparkpro
ממשקים ידידותיים
מומחיות בבניית אתרים דינמיים
קצב ההתפתחות של רשת האינטרנט והדינאמיות המאפיינת את השוק כיום דורשת ממשקים מורכבים הרבה יותר מאשר פעם לכל אתר: אתר תדמיתי, חנות ווירטואלית, אתר תוכן, אתר קטלוג, פורטל מורכב, רשת חברתית וכולי.

One roof
Building a marketing concept, strategy, campaign management, design and content. Everything a perfect site needs.

Professionalism
Leading design, marketing and strategy experts bring you years of knowledge and experience.

Experience
More than a 1,000 projects in the field of Internet since 1997: characterization, web design and development.